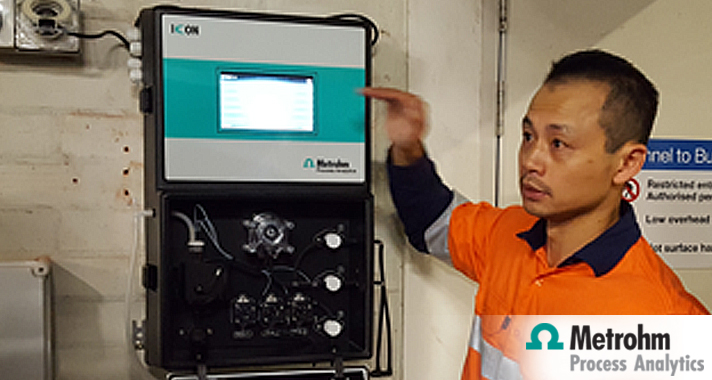 Copper online analyser installed. Tony Luu, Product support specialist, conducting the training for the operators.
Metrohm Australia recently installed the ICON analyser to monitor the copper concentration in water supply.
Copper-silver ionisation
Copper-silver ionisation disperses positively charged copper and silver ions into the water system.
The ions bond electrostatically with negative sites on bacterial cell walls and denature proteins.
Over the long term, the presence of copper and silver ions destroy biofilms and slimes that can harbour Legionella, the bacteria responsible for Legionnaires' disease (legionellosis).
Icon Analyzer from Metrohm Process Analytics
The ICON is a dedicated online analyzer for 24/7 process monitoring. Based on your requirements, we provide a turn-key solution including the sampling system to help you keep your process within the specs!
Monitoring copper online
To control the copper release from the ionisation the copper levels shall be measured continuously. Normally copper measurements are carried out from the water reservoir, which is located after the ionisers.
Monitoring copper level ensures that the supplied water has been treated properly to prevent legionnaires' diseases but also it ensures that the water is still drinkable and does not contain too much copper either.
The ICON analyser from Metrohm Process Analytics is the perfect workhorse to monitor the copper levels. Normal measuring range in legionella control process for the copper is 0.013 – 5 ppm.